Speech
Remarks by UN Resident Coordinator a.i. Sarat Dash on International Mother Language Day
On International Mother Language Day, RC a.i. Sarat Dash highlighted the importance of linguistic and cultural diversity for sustainable societies.
On International Mother Language Day, celebrated annually on 21 February, the UN highlights the importance of language for promoting peace and understanding among communities and reaffirms its commitment to preserving all languages, particularly those on the verge of extinction. This year's theme, "Mother Language: Unity in Diversity" emphasizes the particular significance of mother language and the critical need for preservation of linguistic and cultural diversity. The speech below was held by RC a.i., Sarat Dash, at an event hosted by the Bangladesh High Commission in collaboration with the Government of Sri Lanka, in commemoration of the day.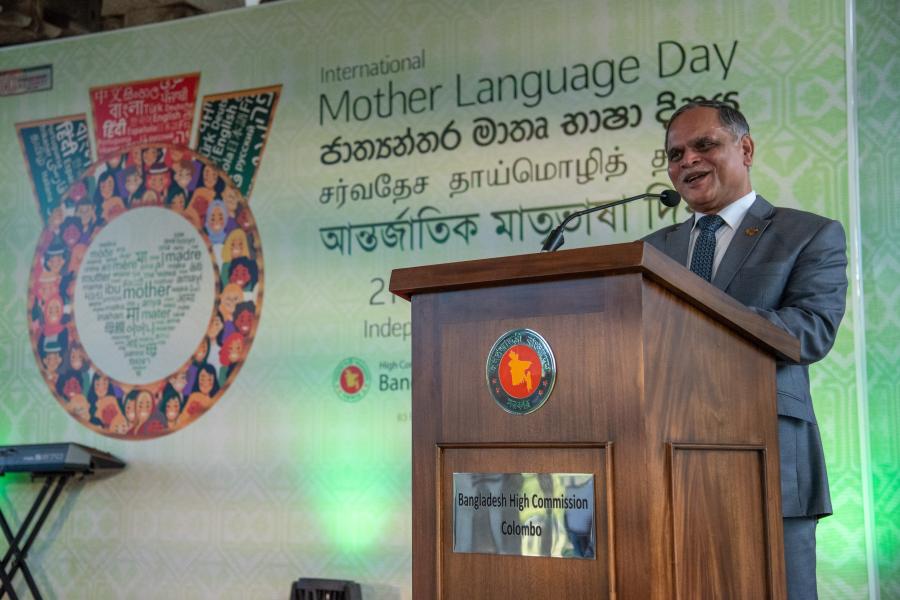 Honourable Prime Minister, Dinesh Gunawardena
Honourable Minister of Education, Dr. Susil Premajayantha
Excellencies,
Ladies and gentlemen,
I am honoured to be here today to celebrate the importance of our mother languages, which are the foundation of our identity, culture, and history. This day commemorates the diversity of our linguistic heritage and serves as a reminder that all languages have equal dignity and worth.
The importance of International Mother Language Day is reflected in the deep attachment of Bangladesh to this day, which dates back to February 21, 1952. On that day, peacefully demonstrating youth and students were brutally suppressed on Dhaka's streets. They were demanding that Bangla be accorded the status of a state language. Several Bengali students were killed by the police.
This event marked the beginning of the language movement in Bangladesh, and it inspired the world to recognise the importance of mother languages. As a result, UNESCO unanimously declared February 21 as International Mother Language Day, following Bangladesh's lead. Member states of the United Nations welcomed UNESCO's proclamation and expressed their determination to preserve and protect all languages around the world, particularly those on the verge of extinction. This commitment also recognises people's efforts around the world to preserve their respective linguistic heritages.
We are all aware that language is a powerful tool for communicating, connecting with, and understanding one another. However, it is more than just a mode of communication; it is also a repository of cultural heritage and identity. Language is at the heart of our human existence in many ways. It shapes our experiences and influences the way we interact with the world around us.
However, according to UNESCO, approximately 40% of the world's more than 6,700 languages are threatened with extinction in the long term. This would have serious consequences for cultural diversity, as well as jeopardise centuries-old knowledge and know-how that could be critical in humanity's efforts to solve challenges such as climate change and biodiversity loss.
Therefore, the United Nations has made linguistic and cultural diversity a top priority. We believe that multilingualism and the preservation of mother languages are critical for the long-term development of our communities, as well as for promoting peace and understanding among communities.
Furthermore, International Mother Language Day aims to raise awareness of mother tongues and highlight the importance of language in building a peaceful and inclusive world. The theme of this year's celebration, "Mother Language: Unity in Diversity," emphasises the importance of recognising and respecting our society's linguistic and cultural diversity. By preserving and promoting mother languages, we are fostering an environment of respect and understanding between different communities.
Today, in the midst of so many children and policymakers determining the future of education in Sri Lanka, I must also reflect on the significance of mother language in education. The United Nations acknowledges that mother-tongue education is the most effective way to ensure that children receive a quality education. Mother tongues lay the groundwork for children's cognitive, social, and emotional development, as well as their academic success.
Therefore, I'd like to commend the Bangladesh High Commission for organising this event and involving schoolchildren and youth from various linguistic backgrounds and ethnicities, in collaboration with the Government of Sri Lanka and other Sri Lankan partners. Young children's creative ideas and thoughts about mother tongues and language universality must be encouraged.
Finally, let me say that Bangladesh's efforts to preserve your linguistic heritage and encourage other countries in the region and beyond to do the same have been an inspiration to all of us.
Let us all continue to collaborate to promote linguistic and cultural diversity and preserve our mother languages for future generations.
UN entities involved in this initiative