Story
Tapping into a flood resilient future in Sri Lanka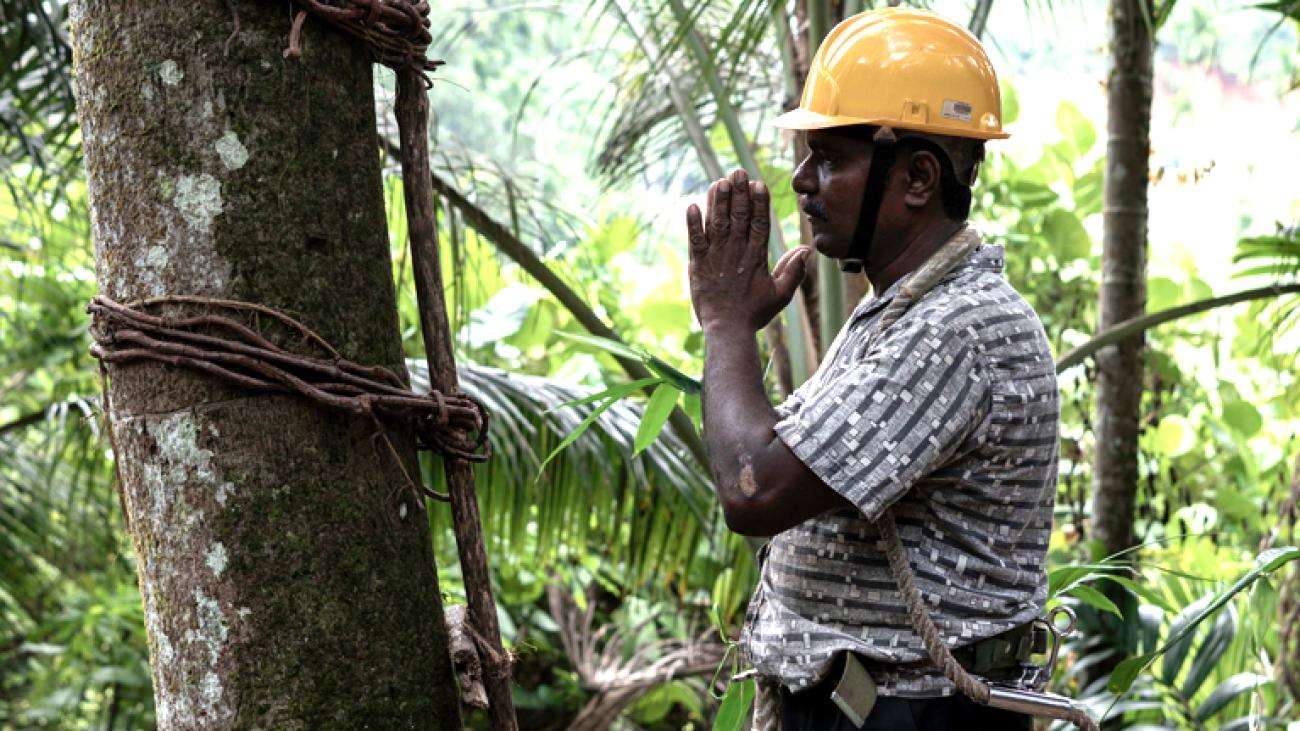 Hugely valuable economically, Kithul trees support rural livelihoods and increase flood resilience in disaster-prone areas of Sri Lanka.
Nishantha welcomes all his guests with a cup of tea and a piece of jaggery sugar made from the Kithul sap tapped from his own trees. Through generations, families like Nishantha's have farmed these Kithul trees, often found in the wild in rural Bulathsinhala, a village in the Kalutara district located in the Western province of Sri Lanka. Occasionally, a small plantation of a few trees would be passed down as treasured family heirlooms. A Kithul tree can take up to 15 years to mature and its flowers can produce sap for generations.
"Many of these trees have been alive since my grandfather's time, and I inherited several of them," says Nishantha, who has since planted a few trees of his own. "My earliest childhood memories are of watching my grandfather and his helpers carrying down sap from the Kithul trees."
Jaggery, treacle, and flour are healthy food products from the Kithul tree. "Kithul syrup in particular is a very healthy alternative to sugar" Nishantha insists. However, despite huge demand for its products, due to scanty tree spread and safety issues, the supply of Kithul products barely meets market demand.
The slowdown of the industry is compounded by a reluctance of farmers to encourage their children to continue the family trade. Though he finds Kithul farming rewarding, Nishantha doesn't want his son to follow in his footsteps.
"As a child, even I was discouraged from going into the family business, I was so interested in the entire process that my grandfather's helpers, feeling sorry for me, taught me the trade in secret," he says with a wry smile.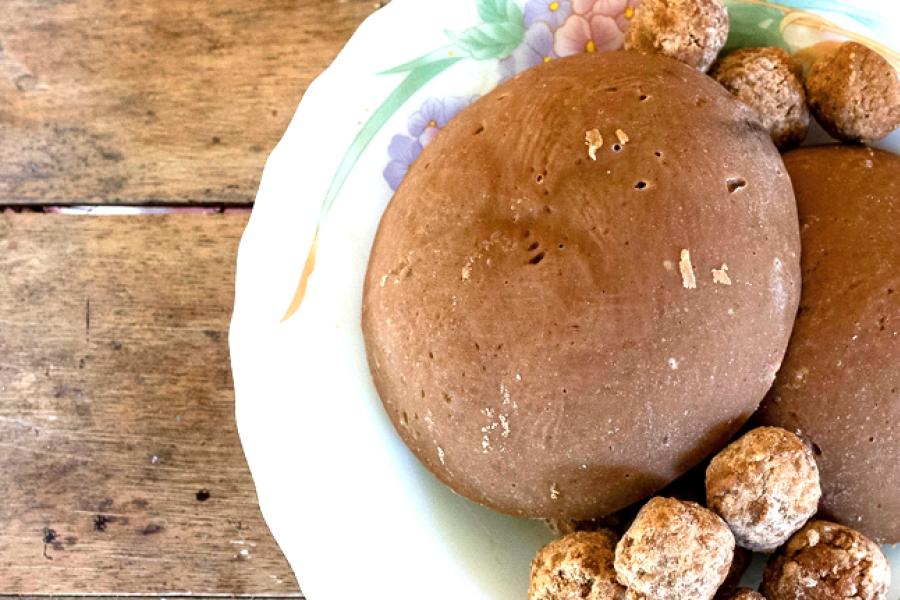 "Many young people don't want to go into the industry because it doesn't look and feel modern, they are encouraged by their parents to find jobs in Colombo instead," says Dinithi Samarathunga, a program officer with the International Union for Conservation of Nature (IUCN), ILO's implementing partner on the project. "The job is very risky and dangerous," she adds, explaining that this is another reason discouraging young people from going into it.
With support from the ILO, Kithul farmers received insurance policies that cover injuries and accidents. New safety equipment has helped ageing farmers like Nishantha to continue to tap Kithul trees whilst minimizing the danger to their bodies. "The hard hats and the safety belts we have received make our jobs safer, but also much more easy", says Nishantha, demonstrating how the easily adjustable safety harness is more secure and convenient than the ropes they used earlier.
The interventions were carried out as part of ILO's flagship Jobs for Peace and Resilience (JPR) Programme, wherein this specific project's aim was to support livelihoods improvements by strengthening disaster resilience in flood and drought effected communities in selected geographical locations in Sri Lanka.
The project has also planted nearly ten thousand Kithul trees on private land, in the care of 32 farmers.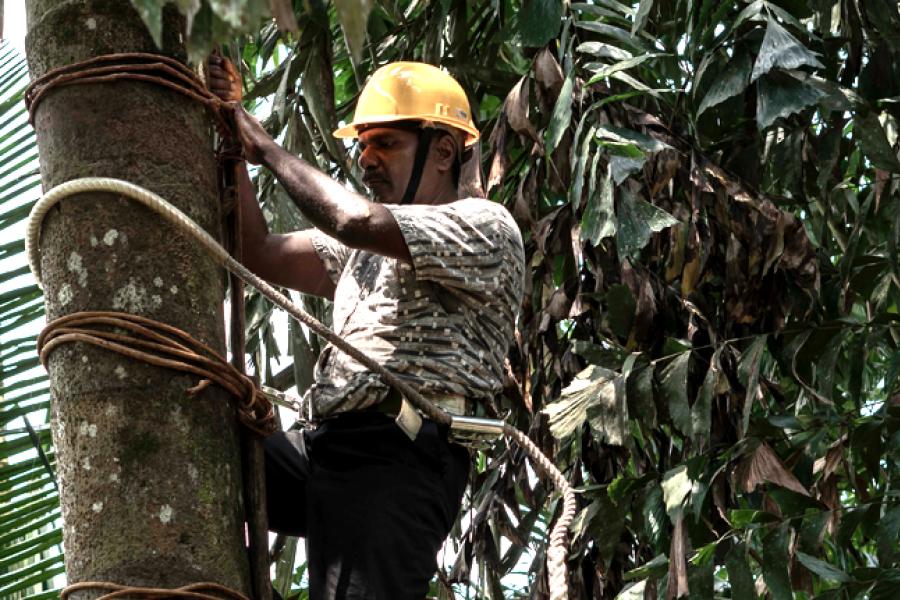 Whilst being enormously generous with its produce, Kithul is a rare industry that generates both economic value whilst also promoting environmental security. The tree's fibrous root system is effective in preventing soil erosion in watershed areas whilst further increasing water retention capacities. The Kithul tree canopy can slow down the intensity of rain as it falls to the ground; thus preventing soil erosion. Collectively these effects can have a huge impact in mitigating the damage caused by floods, enabling a greater resilience to climate change for local communities and ecosystems. This is particularly relevant in flood prone areas such as the Kalutara district, which receives some of the highest rainfall in the country during the southwest monsoon.
Providing technology that lessens risk as well as increases efficiency and profitability and thereby reduces the economic fragility of the industry is a core long-term objective of the project. It has brought together Kithul farmers from many parts of the country, enabling them to share knowledge and expertise. "Local farmers from other places have tidbits of knowledge to share that can be tremendously helpful. I learned some very useful techniques to treat the Kithul flower in its maturing process", says Nishantha. Devoted to perfecting the art of treating the emerging Kithul flowers in a way that maximizes their output whilst doing no lasting damage to the tree, according to him "Kithul farming is a lifelong learning experience".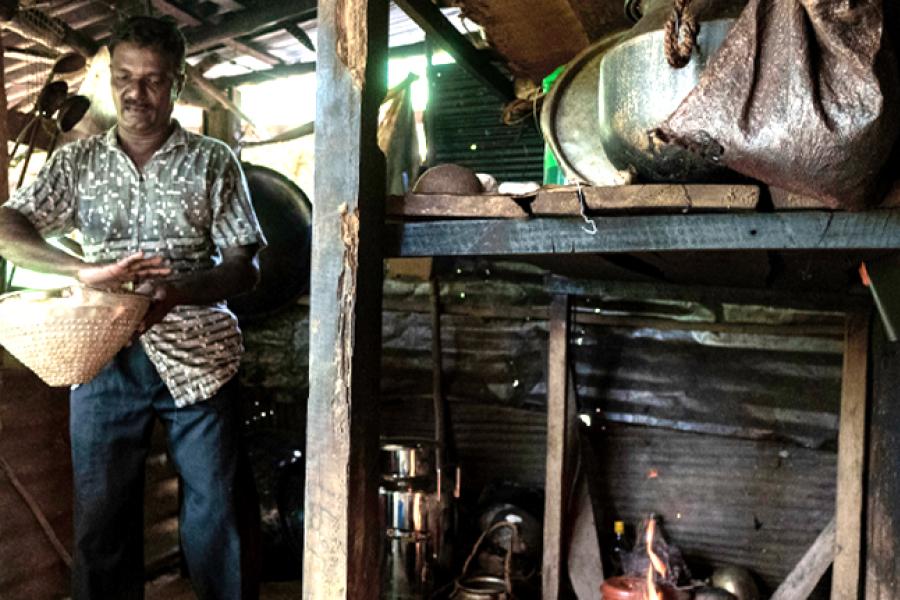 The project also seeks to provide active links to the market. "We have linked them with the private sector," says Dinithi, adding that strong links with the local government have also been forged. "As their expertise develops, we hope that the farmer's association will soon access the marketplace directly, increasing profits and long term stability".
Nishantha talks about how he once earned about two lakhs (approx. USD1,100) from a single tree over the course of a few months. This was a particularly hard time in his life; he had just retired from the army and was waiting for his pension to be approved. "The Kithul trees in my garden are what helped me and my family survive those months. I feel safe because my Kithul trees have been there for me during hard times."
Nishantha speaks of his trees almost as if they are alive and conscious, indeed the culture of farming Kithul trees is one wrapped up in an almost spiritual regard for nature. "The Kithul farmer is someone who always converses with the tree, the tree is a very sensitive being" says Nishantha, speaking in reverential tones. While much of this reverence is attached to a sense of gratitude for its bountiful provisions, it is also born of a wry sense of guilt and compassion, "We take the fruits of its labor for our own use, in a way we are tricking it. So we have to make sure to treat it with the utmost respect."
UN entities involved in this initiative
ILO
International Labour Organization