Story
Improving livelihoods of women tea smallholders through sustainable land management practices

Women dominate the first and second export revenue sectors of the Sri Lankan economy, apparel and tea. About 75% of Sri Lanka's tea comes from small-growers.
Women dominate the first and second export revenue sectors of the Sri Lankan economy, apparel and tea. About 75% of Sri Lanka's tea comes from small-growers, mostly consisting up to 10 acres of family-grown estates. Small-holding growers, are the backbone of the tea industry in Sri Lanka, accounting for about 60% of the total area cultivated. 
In tea plantations, tea plucking and weeding are female dominant and it is common for the large plantation sector as well as the tea smallholding sector. However, the women's responsibility in the tea smallholdings is much greater. In tea small-holdings, not only the tea plucking but all the responsibilities of maintaining small tea plots rests on the shoulders of women. This is evident in Pambadeniya in the Doluwa Divisional Secretariat division in the Kandy district where a majority of tea small holdings are operated solely by women. 
In Pambadeniya, the role of productivity improvement and Sustainable Land Management (SLM) in the tea smallholding sector is spearheaded by the Women Home Garden Society that operates under the purview of the area Agrarian Service Centre. The women were trained on SLM practices suitable for tea smallholdings through the Rehabilitation of Degraded Agricultural Lands Project (RDALP). 
The RDALP is working to rehabilitate degraded agricultural lands in the Nuwara Eliya, Badulla and Kandy Districts where approximately 50% of agricultural lands are degraded. The project funded by the Global Environment Facility (GEF) is implemented by the Food and Agriculture Organization of the United Nations (FAO) together with the Ministry of Environment, the Department of Agriculture (DoA) and several other relevant government institutions. 
Although tea is the second largest export commodity of Sri Lanka less and less farmers are willing to invest in tea due to a regular decline in yield in the past decades. The yield has declined to an average of 350 to 400 kilograms per acre while in some lands it is as low as 150 kilograms per acre. But according to the Tea Research Institute (TRI) of Sri Lanka, the yield of a well-managed tea plantation could easily be enhanced to 1,000 kilograms per acre.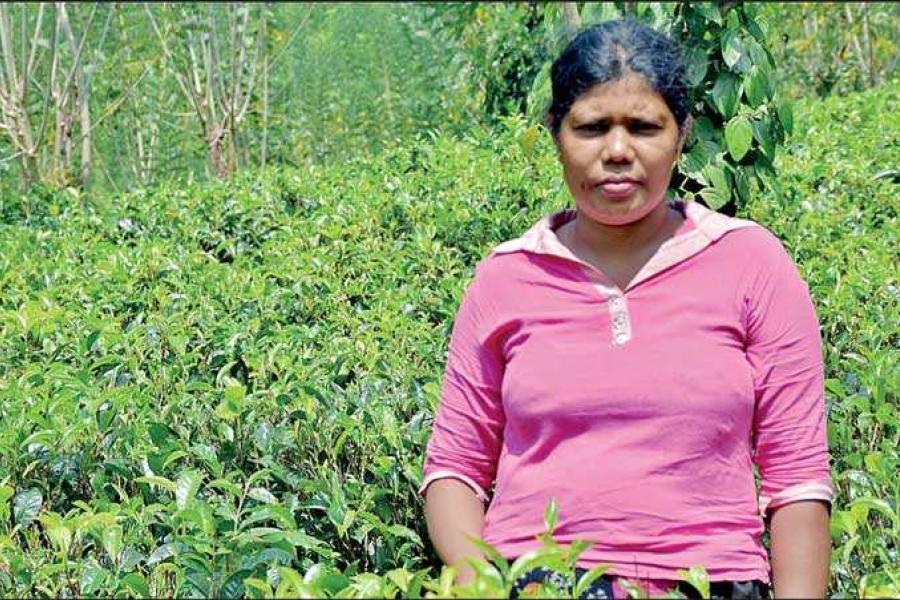 Pushpa Ranjanee of Pambadeniya is a courageous farmer and an active member of the Women Home Garden Society. Pushpa began cultivating tea in a two-acre plot of land in 2004. However the lack of knowledge in tea smallholding and the unexpected onset of drought that lasted for longer periods affected her tea plantation which was in a state of neglect. It was in this backdrop that Pushpa joined the RDALP in 2018. 
Her land was severely degraded due to soil erosion. The land did not have optimal tea plant density. Shade management and other important aspects of maintaining a healthy environment for tea had been neglected. Pushpa's land was subjected to soil erosion as she had not applied any soil conservation methods. The indiscriminate application of chemical fertiliser without due consideration to the pH Level of the soil and soil organic matter content, the micronutrients and microorganisms in the soil had further contributed to soil degradation. This in turn resulted in low yields and low incomes. 
RDALP and the Tea Small Holdings Development Authority (THSDA), the government agency responsible for the development of tea smallholdings sector helped Pushpa and other farmers to improve their tea cultivations. A series of training and awareness programs were conducted to educate farmers on Sustainable Land Management (SLM) and maintaining a successful tea plantation. A range of SLM technologies have been introduced in the tea smallholding sector including organic fertiliser application, shade management, intercropping and soil conservation.
"I applied the SLM practices to my tea cultivation as recommended through the training programs. The project provided cash grants for soil conservation and fruit plants for intercropping. Tea plants were provided by the THSDA for infilling. I used compost to improve the soil quality. All these measures contributed to a high yield, income and the plants are more resilient to the drought now," she added. 
Pushpa who now engages in organic tea production said that the organic green tea leaves she harvests are able to fetch a price of Rs. 110 per kilogram compared to Rs. 80 per kilogram through conventional tea production. Successful tea smallholding provides a stable monthly income for women and little variations take place only at extreme weather events. This has been addressed through the provision of fruit crops for intercropping which assures an income all year round. Intercropping cash crops, especially pepper and fruits not only provides an additional income but also serve as shade trees for smallholder tea plantations. 
"Increased income from tea plantation enabled most of the women to come out of debt. Now they have repaid their loans and they are saving money," said Iroshini Seneviratne, the Agriculture Research and Development Officer of the division who guides the women in this program. 
Pushpa has also started a vegetable cultivation in a one-acre plot of land and maintains a vanilla cultivation in her home-garden. In addition to leading the smallholder tea cultivation in Pambadeniya, the Women Home Garden Society also leads the home garden program with vanilla as an economical crop. 
Empowering women in sustainable agricultural ventures such as tea can uplift the economic condition of the whole family. Better economic conditions means better access to nutrition, and other services such as health and education for the family. 
UN entities involved in this initiative
FAO
Food and Agriculture Organization of the United Nations